White Peony Herb to Promote Fertility

on May 17, 2013

by Dr. Renee Hanton, MD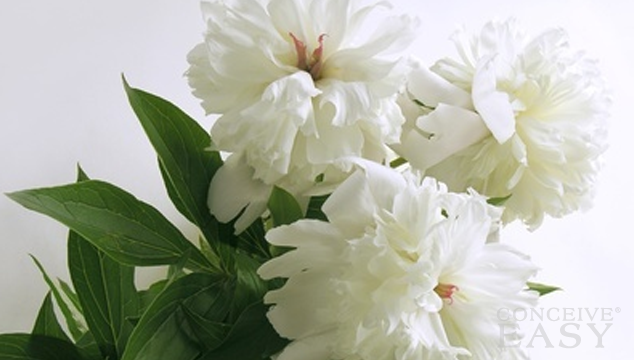 White peony is more like a "support herb" if you will, an important and helpful ally to all other fertility herbs.

More Than Just A Flower
We all know white peony as a beautiful flower, but not many women know that it actually has a ton of healing properties as well. White peony is more like a "support herb" if you will, an important and helpful ally to all other fertility herbs. It works best when used alongside other fertility herbs. Some of the things that white peony is helpful for? Painful periods, PCOS, uterine fibroids, and endometriosis. White peony has qualities that make it a helpful anti-inflammatory herb, an anti-spasm drug, and it even has muscle relaxant qualities and analgesic qualities. Claim Your 20 Free Pregnancy Tests – Click Here

How White Peony Is Used
White Peony is almost always used in combination with other drugs to give it a boost. It is not the flower, but the peony root that is used for medicinal purposes. The root is dried, and then boiled down to make a strong tea. Sometimes it is used to make a flavor/oil extract that can be used as well. Peony's "partner plant" is licorice root. It is proven to work much, much better when used in conjunction with licorice root. There have been several studies that show when used together, peony and licorice root can decrease the size of a woman's uterine fibroids, reduce painful periods, and lower serum and free testosterone levels in women who have PCOS. White peony is also sometimes used to improve kidney function, which can reduce the risk of water retention and even improve sexual desire.

Pair it with Dong Quai
White peony also works well when paired with Dong Quai, an ancient Chinese herbal treatment. This is especially true for cases of iron deficient anemia. White peony is very good for moving blood to the pelvic areas, which can help with "stagnant" conditions such as PCOS, fibroids, cysts, and endometriosis.

Improve reproductive health
Another great use for white peony is as a vaginal steam bath for overall reproductive health and wellness. If you are making your own tonic with white peony, you should know that it combines well with equal parts licorice root or equal parts Dong Quai. You should never use white peony if you are pregnant, or if you have a history of bleeding problems. There are not very many side effects documented from using White Peony, but that doesn't mean that they never happen. Of course, if you have questions about whether or not you would be a good candidate for using white peony, your best bet is going to be do ask your doctor, just to be sure.

ConceiveEasy® TTC Kit™ is the most complete fertility system available over the counter. Clinically proven to dramatically increase your chances of conception and help you get pregnant fast from the very first use. And now for a limited time, Try a FREE starter pack today & receive 20 FREE pregnancy tests and a FREE Digital BBT Thermometer!
White Peony Herb to Promote Fertility

,
Dr. Renee Hanton is ConceiveEasy's Senior Physician with expertise in the diagnosis and treatment of infertility. Dr. Hanton specializes in the endocrine causes of infertility, such as polycystic ovary syndrome (PCOS)