The information provided by our expert should not constitute a diagnosis of your condition. Always consult a medical practitioner or healthcare provider for a formal diagnosis. By making use of this content, you agree that ConceiveEasy and the expert assume no liability.
It's Christmastime! Are you pregnant? If so, congratulations!
Well, the season is here and the time is now if you are a woman that has been waiting for that perfect Christmas pregnancy announcement! It's no surprise that Christmas is the most exciting time of the year, and that's why more and more women are waiting til the big day to do their pregnancy announcement. Claim Your 20 Free Pregnancy Tests – Click Here
It's not uncommon to see women who find out they are pregnant in October, November or early December waiting it out until the holiday season to reveal to their friends, family and sometimes even their partner that they are expecting. It can be such a special and magical time of the year, even without a pregnancy announcement, and some women can't help but share that Christmas magic with everyone when it includes their unborn baby. There are literally hundreds of Christmas pregnancy reveal and Christmas pregnancy announcement ideas out there.
Read on for more information and a list of our very favorite ones!

Backlight Tree Announcement
This one is absolutely gorgeous, but would only work for a mom to be who has already started to show and who already has a bit of a baby bump. The way that this one works is that the mom to be is standing in front of the Christmas tree, which is of course, all lit up. This is pretty much the only light in this photo, and the mom to be stands in front of the tree, cradling her baby bump.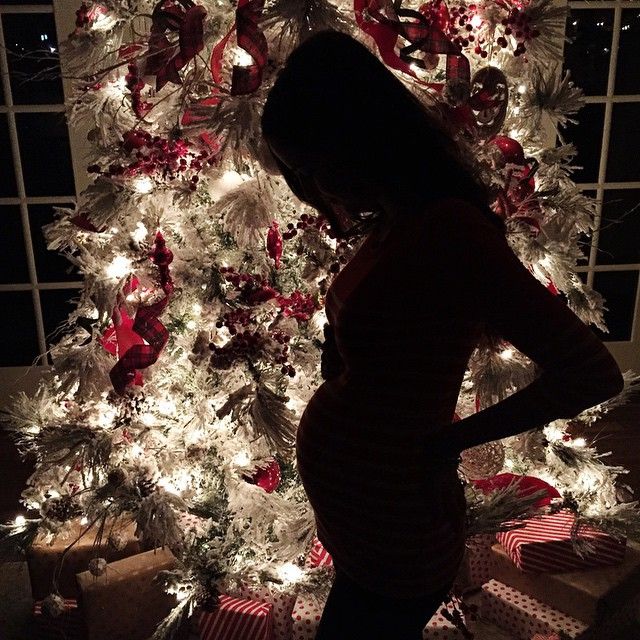 In this announcement, the mom to be is sort of like a shadow, in that you can't really see her face or anything, just her silhouette. It makes for an absolutely breathtaking backdrop and a completely adorable pregnancy announcement. Definitely a cute one for family and friends and could also be used as a part of a pregnancy photo shoot.

Hanging Ornament Announcement
This one is also really cute and wouldn't require much forethought or money to pull off. The premise of this pregnancy announcement is actually hanging the positive pregnancy test on the tree in the form of an ornament for loved ones to find. Women can also take a picture of the test hanging from the tree and send it to family and friends as well. The easiest and most popular form of this announcement is using a small stocking hanging from the tree with the positive pregnancy test inside. This is a really cute and inexpensive pregnancy reveal idea, and just about anyone can pull this off! Definitely a super easy one if you are looking for something that doesn't take much effort.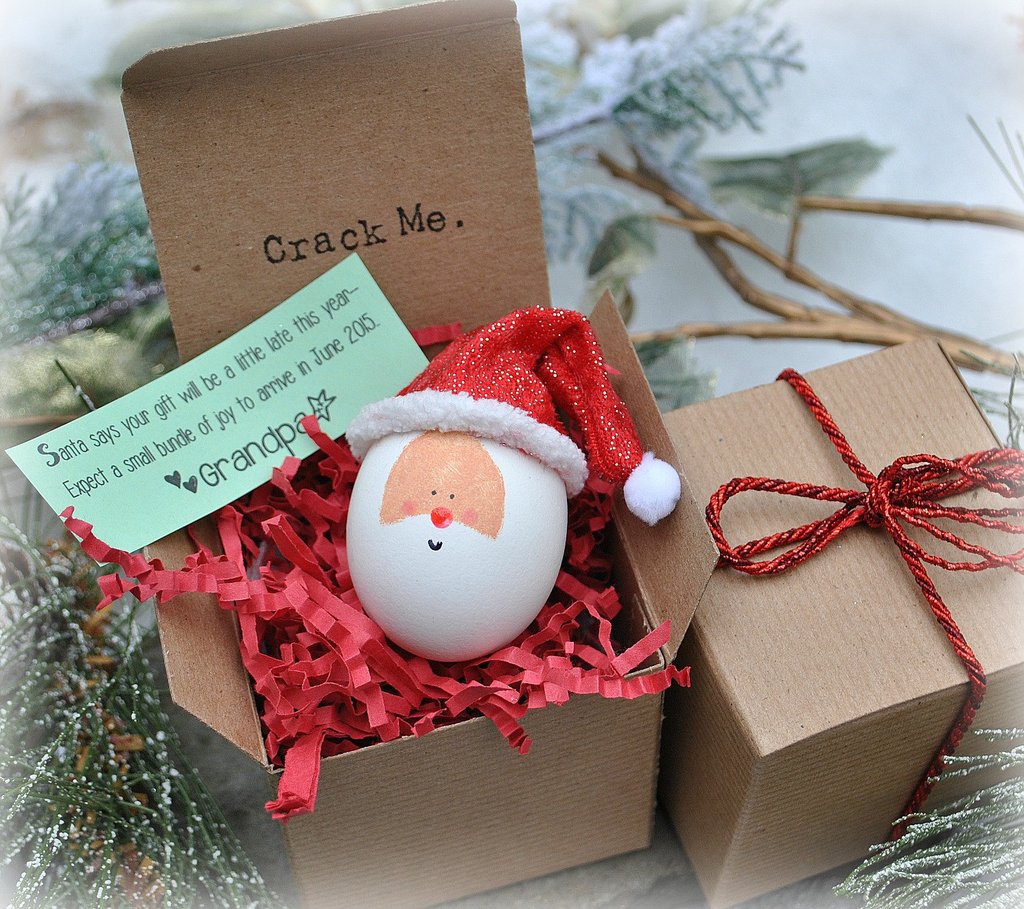 Christmas Gift Pregnancy Announcement
Another really great holiday pregnancy announcement idea is the age old "gift" idea, but with a holiday twist. This one isn't always great for a "general" or social media announcement, but it can be really good for announcing to a significant other or a grandparent to be. You can do many different variations of this announcement, whether you just wrap up a positive pregnancy test or by wrapping up something more, like a onesie that says "Giving you the gift of a baby" or "Giving you the gift of a grandchild," or even just wrapping up a pair of baby shoes, a baby rattle or a baby bottle. There are tons of variations of this announcement and they are all equally adorable!

Christmas Ornament Announcements
There are so many different variations of this announcement out there, you can literally do anything with it. In some instances, women will use one of those "family" ornaments, and add a "plus one" to the mommy snowman, penguin or polar bear's stomach to indicate that they are expecting. Other women have "coming June 2018" or "Baby makes three" inscribed on the ornament and than hang it from the tree. This is also a great way to announce to family and friends, since you can actually give the ornament as a gift! So cute, and it makes a great and inexpensive gift as well. A really cute idea is to wrap these ornaments up and give them to family members as gifts. What a great and creative gift idea that family and friends will get to remember and cherish forever!

Christmas Stocking Announcements
Stocking announcements are also exceptionally popular, since they make a perfect photo opportunity. This is great because of the various sizes of stockings available, and the fact that there are so many miniature stockings out there today. This one looks great hanging on the wall with a "mommy, daddy, and baby" stocking set up, or of course, hanging from the mantle. So adorable, and a ton of different variations on this one. Even if you're pregnant with twins, you could vary it with a "mommy, daddy, baby, and baby" set up too!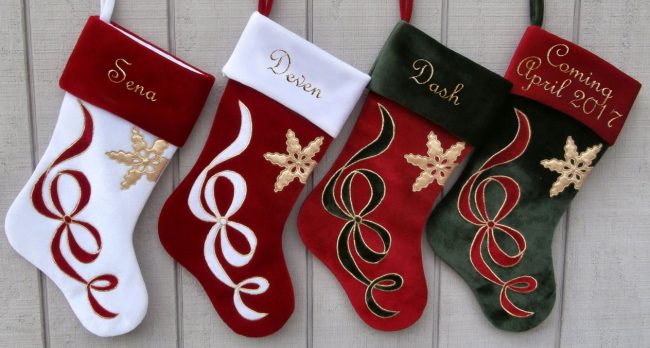 The stockings can also be stuffed, with lots of good stuff in each one, including lots of mini "baby" supplies in the mini stocking. Love this idea, and there are a ton of different variations that can be used with it, so it can be customized to fit a particular need.

Big Brother/Big Sister Announcement
A great way to announce a pregnancy around the holidays is by including a big brother or big sister, if there is one. There are so many ways to do this, and they are all equally adorable. One of our favorite ways is a sign "written by" the big brother or sister, saying "I Asked Santa For A Baby" or "Santa's Making Me A Big Brother," or something of that nature. These signs are always super cute and exciting to announce pregnancy to family or friends!
Another really cute announcement we saw is one that actually surprises the big brother or sister to be. It involves the big kid opening a gift or Santa's toy bag, to reveal a sign (usually a chalkboard- they are SO in right now!) stating that they are going to be a big brother or sister. This is an especially cute way to announce!

Elf On The Shelf Pregnancy Announcement
Whether you are the family who is crazy about the Elf On The Shelf, or you just know a family that is crazy about that little guy, it's no surprise that the super popular mischievous Elf On The Shelf would make its way into pregnancy announcements during the holiday season.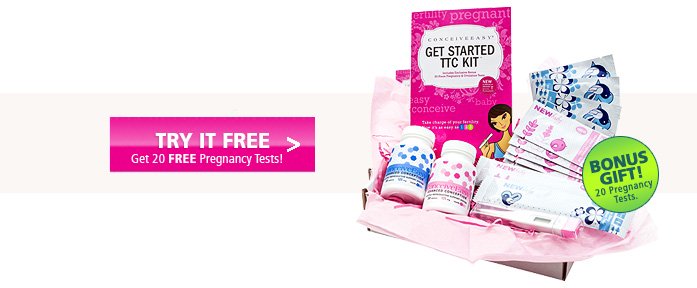 There are many variations of this announcement as well, including announcements where the elf is holding the pregnancy test, announcements where the elf is laughing about the parents being "naughty," and much much more. A quick google search will produce tons of ideas if you are thinking about including your elf in your pregnancy announcement!

Photo Shop Pregnancy Announcement
This is another really cute and simple pregnancy announcement idea. People on social media are taking their sonogram or ultrasound picture from the doctor's office and photoshopping it to add in a tiny little Santa hat or elf shoes! It's the cutest thing and the perfect idea for a holiday pregnancy announcement that doesn't break the bank or take a whole lot of being "crafty!" The photoshop fun doesn't end with just Santa hats either, there are so many different "embellishments" that can be added to ultrasound or sonogram photos to make them ultra cute and cheery for the holiday season! The options are really endless when it comes to photo shop additions and add ons that you can use for these types of announcements.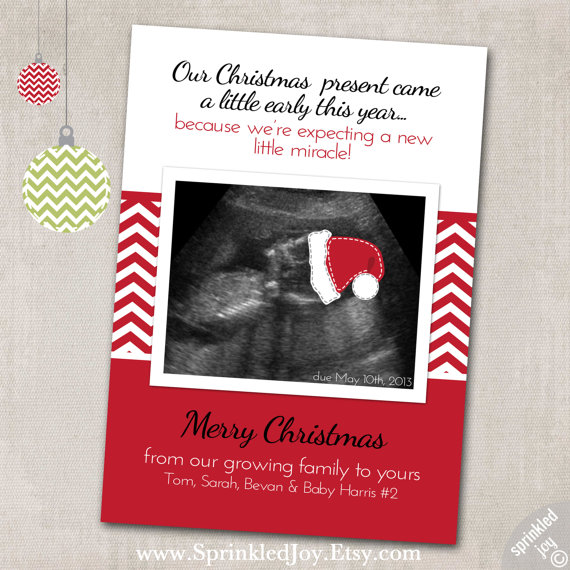 Christmas Card Pregnancy Announcement
Christmas cards are one of the easiest, cutest, and most popular ways to announce a pregnancy around the holiday season! This is an especially cute way to announce a pregnancy if a couple has family, friends or acquaintances that live far away or who they don't get to see very often. There are so many different cute ways to do this, and couples can include an adorable photo or a cute saying. Some of our favorite ones include shots of mommy, daddy and baby winter boots, or a cute saying like "We are excited to announce our family is expanding by two feet!" There are so many cute ways to announce pregnancy with a  Christmas card and it is also incredibly affordable to do it this way!

The Santa Wish List Announcement
This is another really cute announcement idea that can incorporate some of the aspects of the other types of announcements as well. This list usually includes a chalkboard sign of some sort, or also maybe a long wish list. These wish lists usually say something like "I asked Santa for a real baby" or "Baby Brother" or something along these lines, with a  picture of a younger sibling.
However, this announcement could also be modified to include "I asked Santa to become a mommy" or something of that nature. These announcements are usually really cute, and sometimes, they even include a picture of Santa himself! Having Santa in on the fun is a really nice touch, and makes the picture even more special, so if you are considering one of these types of announcements make sure that you consider including Santa as well!

"We've Been Naughty" Pregnancy Announcement
This one is a little bit fun, a little bit naughty, and depending on who you are sharing with, could be deemed a little bit inappropriate. This one usually involves a Santa list or a Christmas card, where it says "we've been naughty!" usually followed by a due date announcement. Some of these pregnancy announcements includes a big brother or sister, saying "Mom and Dad have been naughty," but depending on your personality, this one might not be deemed appropriate. For example, if a couple is planning on sending the announcement to their boss, or great aunt, or church family, this announcement might not be for you. Truthfully, this one can really be very cute and funny if you are an "edgy" or "funny" couple, but you just have to have the right outlook and the right personality for it.

New Year's Eve Countdown Announcement
Christmas isn't the only holiday that can allow couples to have some fun with pregnancy announcements! New Year's Eve can provide the perfect sparkly, exciting backdrop for pregnancy announcements! One really cute one is a picture of a couple in front of the New Year's Eve ball, or other New Year's Eve festivity like horns or blowers. This one is usually accompanied many times by a saying, such as "Countdown to Baby Smith: Coming In June!" or something similar. These are really cute announcements and usually look a little glitzy and fancy since they are all jazzed up for New Year's Eve! If you are looking for a different and exciting pregnancy announcement, consider doing a New Year's Eve announcement instead of a Christmas announcement. It's not so "overdone," and is really a unique way to announce!

We Are Expecting "Year" Announcement
Another great New Year's pregnancy announcement is really simple and easy to do, and looks great on social media! This announcement usually includes a copy of a sonogram or ultrasound photo and says "We Are EXPECTING (insert year) To Be A Great Year!"  These announcements are so cute, and are a great way to start off a new year. They are easy to come up with and don't take much to make a really great one! We really love this one, and it looks like a wonderful way to start out the new year! There are a ton of other great New Year's pregnancy announcements out there if this is something that interests you when it comes to revealing a pregnancy.

Conclusion
As you can see, there are so many different types of pregnancy announcements out there. The holidays can actually make picking a pregnancy announcement more difficult, since there are so many adorable ones to choose from! Couples can spend their time searching Pinterest, Instagram or Facebook and going through the hundreds of different festive and fun pregnancy announcements that families can choose from. Announcing a pregnancy is one of the most fun and exciting parts of the whole process, so take your time choosing a pregnancy announcement and pick the one that fits both your family and your personality perfectly!