Old Wives Tales About Baby Gender

on Dec 09, 2012

by Alyssia Granger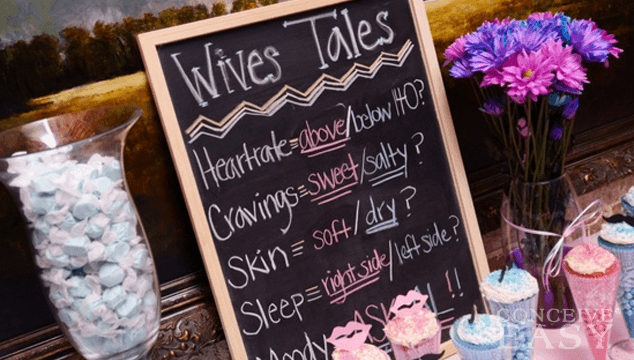 Pregnant? Dying to find out if you have a boy or girl? Check out these fun and sometimes bizarre old wives tales for predicting baby gender.
There are tons of old wives tales out there about predicting baby gender. Before all of the technology that we have available today, there were no gender determination ultrasounds, no gender selection technology. You didn't get a choice, and you didn't get to find out what you were having until you met your sweet little bundle of joy. My, how things have changed! Just for fun, today we are going to tell you about some of the most popular old wives tales for determining baby gender.

">Claim Your 20 Free Pregnancy Tests – Click Here

How you carry
This is one of the more popular ones that most people know already. The saying goes that if you are carrying "high", you must be having a girl. On the other hand, if you are carrying your baby "low", it must be a little boy. Who knows how much truth there is to this old wives tale? My sister had two boys and she carried both of them "low", so it was true in her case.

Heart rate
This is another popular one, and people will usually start making their own assertions about the sex of your baby after you tell them the heart rate. The saying goes that a fast heart rate (one over 140 beats per minute) is usually a girl. Heart rate below 140 beats per minute? The old wives tales say that you are having a boy. Of course, this is just a myth, and not really an accurate predictor of gender. When my OB took my baby's heart rate, he would tell me, and then say: "That means, guess what? It's a…. baby!"

Swing your wedding ring
This one is always fun, and when I was a waitress I would have people doing this to me every day when I was pregnant. You take your wedding ring and tie it to a piece of string. Then you hold it over your belly without moving it on your own. If it swings around in a circle, the saying is that you are likely to be having a boy. However, if the string just rocks back and forth, that indicates a girl. This one is really fun and kind of silly, and I am not sure if anyone really expects it to work.

Drano (WHAT?!?!)
Yes, Drano. Here's how it goes, although I don't really recommend trying this one, since it could be kind of (ok, really) dangerous! It starts off simple enough, with the mom to be peeing in a cup. However, this is where it gets weird. Then you mix in a tablespoon of Drano. If the mixture turns green, you are supposed to be having a girl. However, if it turns blue, you're supposed to be having a boy. This one doesn't sound very safe or fun (who wants to mix Drano with pee!?!). For a safer alternative to this crazy wives tale, you can mix baking soda with a cup of urine. If the mixture bubbles and fizzes, it means a boy. No reaction means a girl. Or so they say!

A key
This one is also silly and just for fun, but it's cool to try anyway. A friend or family member places a key in front of the pregnant woman and asks her to pick it up. If the pregnant lady grabs the key by the narrow end, it means a baby girl. However, if she grabs the key by the fat part, it means a boy is on the way. This one is fun and there are a ton of variations on it.
Have you heard of any of these old wives tales, or have you tried any of them during your pregnancy? We would love to hear about it and which ones worked for you.

ConceiveEasy® TTC Kit™ is the most complete fertility system available over the counter. Clinically proven to dramatically increase your chances of conception and help you get pregnant fast from the very first use. And now for a limited time, Try a FREE starter pack today & receive 20 FREE pregnancy tests and a FREE Digital BBT Thermometer!
Old Wives Tales About Baby Gender

,
Alyssia is mom to 2 giggley twin girls, Sophia and Emma, and son Hunter. She's a Southern girl, passionate about photography, travel and her husband Josh.