Octomom Charged with Welfare Fraud

on Jan 31, 2014

by Dr. Prabha Sahgal, MD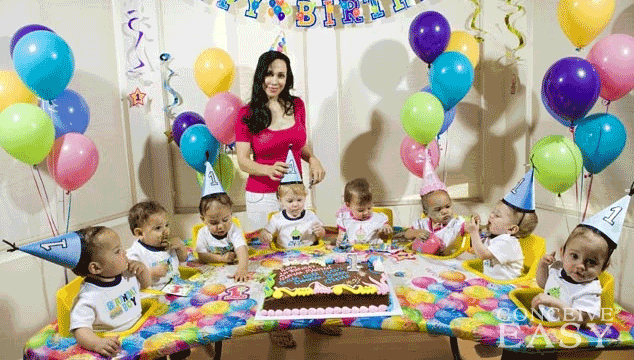 She's no stranger to controversy, and it seems like it's not going to end for her anytime soon. Nadya Suleman, also known as "Octomom" has been charged with welfare fraud.

Fraud accusations
She's no stranger to controversy, and it seems like it's not going to end for her anytime soon. Nadya Suleman, also known as "Octomom" has been charged with welfare fraud. The charges occurred on January 6th. Court documents indicate that Suleman faces two counts of perjury by false application for aid and one count of aid by misrepresentation. The district attorney's office says that they will ask for bail to be set at $25,000. If convicted, Nadya could serve as much as five years and eight months in jail. Claim Your 20 Free Pregnancy Tests – Click Here

Not disclosing
The mom of 14 is accused of receiving nearly $10,000 in CalFresh aid, also known as the Supplemental Nutrition Assistance Program (SNAP) or Food Stamps, without ever disclosing her income. She also received $6667 in aid from CalWORKS, the welfare program that provides cash to needy California families. It turns out, Suleman received nearly $30,000 from personal appearances and videos during this time, but she didn't disclose any of that income. She is still receiving residual income from the videos and magazine appearances, we are told. How she received more than $15,000 in aid while receiving $30,000 in income remains to be seen.

Hands full
"Octomom" gave birth to her octuplets nearly five years ago, and they are the world's longest surviving set. They spent nearly three months in the hospital and were born nine weeks prematurely. She also has six other children between the ages of seven and twelve. The mom of 14 has been strapped for cash for years, telling TMZ Live that she had no trouble doing "whatever it takes" to support her children. She has since appeared in adult videos, done stints in strip clubs, and posed in adult magazines. She was doing many different interview appearances as well, but it seems that those have dropped off.

Will she serve time?
Suleman appeared in court on Friday, January 17, where she pled not guilty to the charges. She wore a black suit and had her long black hair pulled back into a bun. She looked composed and relaxed as she and her lawyer, Art LaCliento. Experts say that it is quite unlikely that Suleman will serve jail time, especially considering she is a single mom of 14 children. The judge released her on her own recognizance and she is due to appear in court again on Feb. 3. We will be following this story to see what develops and whether or not Suleman will serve any time in jail for these fraud accusations.

ConceiveEasy® TTC Kit™ is the most complete fertility system available over the counter. Clinically proven to dramatically increase your chances of conception and help you get pregnant fast from the very first use. And now for a limited time, Try a FREE starter pack today & receive 20 FREE pregnancy tests and a FREE Digital BBT Thermometer!
Octomom Charged with Welfare Fraud

,
Dr. Prabha Sahgal MD, is board certified in obstetrics and gynecology and subspecialty board certified in reproductive endocrinology and infertility. Dr. Sahgal holds a B.S. degree from MIT in molecular biology and currently serves on the ConceiveEasy board of directors.