Kenya Moore Exposes Phaedra Parks

on Apr 06, 2013

by Brittany Null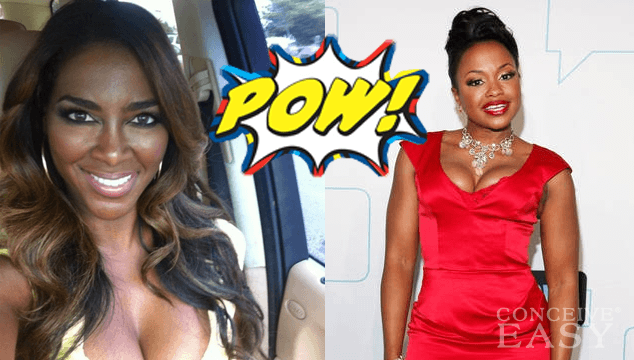 Phaedra actually told InTouch Weekly that Kenya's booty is actually fake... Yes, that her booty is fake, you read that right!

Booty Battles
Well, it's always drama with the Real Housewives Of Atlanta and the ongoing "booty battle" between Kenya Moore and Phaedra Parks. These two ladies have been going at each other for awhile now, ever since their "booty project" went sour. The two females had originally teamed up together, with Phaedra hiring Kendra to help her produce her "donkey booty" workout video. However, the plans fell through when the two couldn't agree on proper compensation, and the ladies had a huge falling out. Not long after that, Miss Kenya Moore suddenly decided to make her own workout dvd. This one: the "stallion booty" DVD. Claim Your 20 Free Pregnancy Tests – Click Here

And The Winner Is..
Well the results are in, and it looks like the "Stallion Booty" workout is the clear winner. Kenya's Body Boot Camp DVD has outsold Phaedra's Phine Body DVD the first week that it was released. According to Amazon, Kenya's DVD became a Best Seller only six hours after it was released, and at last check was holding strong at #40. However, Phaedra's DVD, which was released weeks before Kenya's, is only staying at around #93.

Fake What???
You might think the drama would stop there, but oh no, we are just getting started! Phaedra actually told InTouch Weekly that Kenya's booty is actually FAKE.. Yes, that her booty is fake, you read that right! Here is what she had to say:
"If you're gonna sell a video talking about bottoms, you need to have one that's homegrown. I've never been altered by plastic surgery," Phaedra told InTouch Weekly. "My butt is really my butt. [Kenya's] is full of silicone!"



Firing Back
Oh my goodness, of all the accusations.. Apparently, Kenya decided that she just couldn't take anymore, because recently on her Bravo Blog, she let Phaedra have it, and opened up with all sorts of secrets! Among the best ones? Kenya says that Pheedra's southern accent is fake, and that she is really much more "full figured" than she lets on!
A few of the highlights from her blog post:
"On the one hand she calls herself a preacher's daughter quoting the bible and proclaiming to be an upright Southern belle, and on the other hand in the same breath calls me a whore for not marrying my ex.
She is a fraud in every way imaginable, including her fictitious "Southern belle character" she plays on TV or the 30 pounds she Photoshopped off her photo from her DVD cover. FRAUD!"
Shew.. These two ladies just keep the drama going! We haven't heard a response from Phaedra yet, but we are sure there is one coming! We will keep an eye open for more to come from these Housewives, because we are sure this feud is far from over!

ConceiveEasy® TTC Kit™ is the most complete fertility system available over the counter. Clinically proven to dramatically increase your chances of conception and help you get pregnant fast from the very first use. And now for a limited time, Try a FREE starter pack today & receive 20 FREE pregnancy tests and a FREE Digital BBT Thermometer!
Kenya Moore Exposes Phaedra Parks

,
Brittany lives in Kansas City, where she and her husband Austin are the proud parents of a newborn baby girl. You can subscribe to their lively and entertaining YouTube Channel to follow along on their journey.