How to Use an OPK

on May 25, 2012

by Lucy Eades
Sure, you already know the basics of using a pregnancy test. Now see how an ovulation predictor kit (OPK) can actually help you get pregnant sooner.
How & when do you use an ovulation predictor kit (OPK)? Ovulation predictor kits are great in that they pinpoint exactly when you are ovulating by measuring the luteinizing hormone (LH) in your urine, which is present at the time of ovulation. And as you know, unless you are catching the moment of ovulation (when your egg is released & ready to be fertilized), then you will have a slim chance of falling pregnant. Claim Your 20 Free Pregnancy Tests – Click Here

How do I use an OPK?
An ovulation predictor kit is very similar to a pregnancy test. Just like a pregnancy test, it comes in large midstream applicator size and smaller test strip size. Again, like a home pregnancy test, you simply pee on a stick. One line is just the control line, indicating that you are not ovulating. Two lines indicates that you are about to ovulate. Both sizes function exactly the same, in that they measure the amount of LH in your urine. When an LH surge is detected, you know that you are ready to ovulate in the next 24-48 hours. So if you get 2 lines, it's time to grab your man and get busy!

When in my cycle do I take an OPK?
Cycles vary greatly from woman to woman, however the average cycle length is about 28 days with ovulation occurring on cycle day 14. Cycle day 1 is the 1st day of your menstrual cycle. Now if you have a typical by the book 28 day cycle, then you want to start testing using these at about cycle day 11. However if you're like me then you could ovulate anywhere between cycle day 12 to cycle day 22, so there's no way that I could survive without my ovulation predictor kits. Here is a chart to help you decide when to best begin testing. It is advisable to be conservative and begin testing earlier than later, so you make sure you don't miss the big O. So even for a 28 day cycle, you wouldn't wait until day 14 to test. You would start at about day 10-11.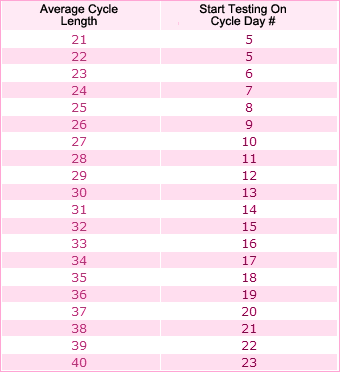 What time of the day to use an OPK?
The next question is when during the day do you even use an OPK? It's not like a pregnancy test where you use your 1st morning urine. You don't want to do that. Instead you want to test about midday though. And remember, don't dilute your urine or you will not get accurate results.

How long will I take OPKs?
You will continue to take your OPKs until the LH surge is detected, and you receive a positive OPK (2 lines). That is why you want to begin testing early enough in your cycle to make sure you don't miss the surge. In drug stores, you can purchase sets of OPKs in packs of 7, 14 or 21. The reason for the number is of course so you have enough to begin early enough in your cycle. About 90% of women will detect the LH surge within 10 days of testing. So be patient and keep the faith!

ConceiveEasy® TTC Kit™ is the most complete fertility system available over the counter. Clinically proven to dramatically increase your chances of conception and help you get pregnant fast from the very first use. And now for a limited time, Try a FREE starter pack today & receive 20 FREE pregnancy tests and a FREE Digital BBT Thermometer!
How to Use an OPK

,
Lucy is a mother of three, who's passionate about all things AP parenting. When she's not busy giving tips on keeping babies healthy & happy, you can find her blogging on her popular YouTube channel