If you are trying to conceive and experience difficulties, Fertibella has a high success rate beginning from the very first month, for those who suffer from infertility. If successful, you can call them, cancel and send them back the bottles within your 30-day free trial and never pay anything beyond shipping and handling. Compared to other fertility drugs and supplements on the market, Fertibella is a highly cost-effective option especially with its free gift items included each shipment for added value. Claim Your 20 Free Pregnancy Tests – Click Here
Here are 4 ways to reduce the Fertibella cost and make the most of it!

Free trial
First of all, make the most of the free trial package. When you order Fertibella, you only pay shipping and handling. For standard processing, you pay $5.95. If you want to receive your TTC Kit sooner, then opt for priority processing for $9.95. With your Fertibella Conceiveeasy Months 1 & 2 fertility blend supplements, you will also receive a free bonus gift: 20 free ovulation tests, 10 free pregnancy/10 ovulation tests, or 20 free early result pregnancy tests, all of them a $72 value.
They will surely come in handy, since testing regularly is part of the getting pregnant process. You have a full 30 days from your date of order to try Fertibella and see how you like it. If for any reason, you change your mind, simply call to cancel within your 30-day trial period and return the unused portion of your bottles and you are never billed beyond your original shipping and handling. And, no matter what, you get to keep your free bonus gift of 20 tests.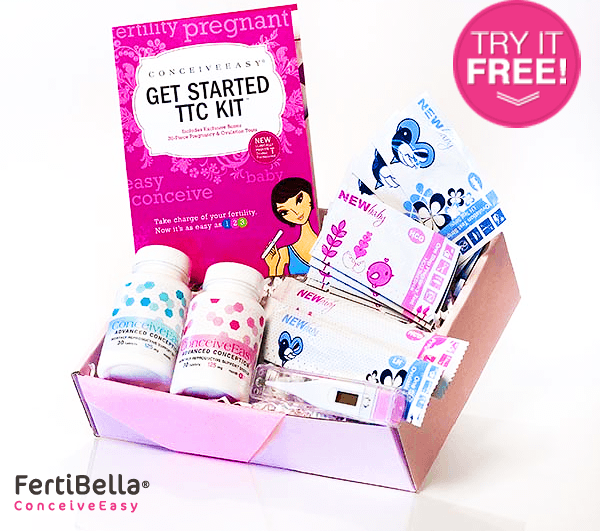 Subsequent months
If not successful in the first month, there is no need to worry, the cost is still low at just $39.95 per month. So if you choose to continue on with the monthly reproductive support system, after your 30-day trial period has ended, you will then be billed for your Month 1 & 2 bottles. And 60 days following your order date, you will be shipped the next TTC Kit containing Months 3 & 4, along with an additional supply of your choice of pregnancy tests, ovulation tests or a mix of both.
Think about the fact that using Fertibella is much cheaper than going to expensive doctors, especially if you don't have medical insurance. More sophisticated procedures will cost you a lot more and will be less gentle to your body. Also, along with every 2-month supply, you will be receiving an additional 20 tests of your choosing, to again assist you in your all-important journey trying to conceive.

All-natural ingredients
Keep in mind that all the ingredients in Fertibella are natural and gentle to your body. They are natural herbs and vitamins, safe for daily intake and free from side effects. Fertibella helps with various disorders such as unexplained infertility amenorrhea (absence of menstruation) and irregular cycles.
Some of its benefits are ovulatory stimulation, increasing fertile cervical mucus and luteal phase lengthening. For each of the above individual disorders there are other specific treatments, synthetic or natural, but with Fertibella you have all in only one product.

100% satisfaction guaranteed
If you are not absolutely satisfied with your Trying to Conceive Starter Kit, you can simply send it back in the 30-day trial. Don't worry about emptying the bottles, you won't have to pay for what you have already consumed. And the best of all, you can keep the free gifts! And all for the just the cost of shipping. What have you got to lose? Try it today.