Daddy Diddy and His Daughters

on Mar 19, 2013

by Alyssia Granger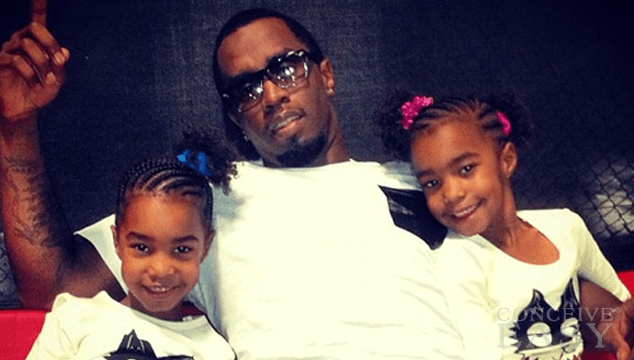 P Diddy Combs steps out on the town with his twin 7 year old daughters, D'Lila Star and Jessie James, for their first father-daughter dance.

Date Night
Sean "PDiddy" Combs and his adorably gorgeous twin girls Jessie James and D'lila Star (age seven) headed out on the town Friday night, March 1. The super cute threesome were heading out to their first father-daughter dance. Before the dance, he tweeted, "On way to my 1st father daughter dance!!!!! I'm so EXCiTED!!!!!!!!" He also posted a picture of himself and the girls, outside in the driveway, posing in front of Diddy's $360,000 Maybach. The girls looked absolutely adorable, wearing light pink sequined dresses with fluffy bottoms and yellow bows. They were also both wearing beautiful hot pink corsages, of course, a gift from daddy. We hope that the trio had a great time at their dance! The father of six was truly excited about the experience, as he was talking about it during his appearance on the Jimmy Kimmel show. Claim Your 20 Free Pregnancy Tests – Click Here

Lookin' For A Job
It's not a secret that P-Diddy is a great dad, taking care of his informal stepson Quincy, age 21, and his biological kids Justin, Christian, and Chance, along with twins D'Lila Star and Jessie James. He is always thinking of them and putting their needs first. Rumor has it that Diddy is in the market for a new job. He is reportedly very interested in a position as a host on The X Factor, but so far money talks with Simon Cowell have not worked out as planned. Diddy wasn't so sure that Simon would offer him enough money, telling The Sun, "Simon's pockets are kind of tight, and I have these six kids to feed, so he needs to step up." That's Diddy, always thinking of the kids.

Normal, But Blessed
It's no secret that Diddy's kids certainly have more than most other kids (Quincy and Justin were both featured on the MTV Show, "My Super Sweet Sixteen", where they were showered with lavish gifts and even cars), but the superstar does his best to keep them grounded. He told Access Hollywood about his kiddos:
"We don't allow taking pictures at their recitals and things like that. We don't wanna be rude or nothing, but it's their time, it's their moment. I'm there to support them as a parent. [Justin's] done everything normal. That's one of the things that I think that raising my kids – myself and the mothers of my children – we don't raise them as celebrity children.[…]So even the tailgating situation, I just go there as a parent. I tell people like, 'I'm off today. I'm really here to support my son.' It's about my son.[…]I dress in full UCLA garb. I'm fully committed, I'm a full Bruin."

Good job, Daddy Diddy
We think that Diddy does a great job of taking care of all of his kiddos, making sure they have all they need and want, while still keeping them grounded and letting them act like regular kids. We are sure that is not as easy as it looks, especially when you have six kiddos, but Diddy sure makes it look like a breeze!

ConceiveEasy® TTC Kit™ is the most complete fertility system available over the counter. Clinically proven to dramatically increase your chances of conception and help you get pregnant fast from the very first use. And now for a limited time, Try a FREE starter pack today & receive 20 FREE pregnancy tests and a FREE Digital BBT Thermometer!
Daddy Diddy and His Daughters

,
Alyssia is mom to 2 giggley twin girls, Sophia and Emma, and son Hunter. She's a Southern girl, passionate about photography, travel and her husband Josh.