Is Duloxetine (Cymbalta) Safe To Use During Pregnancy?

on Mar 16, 2013

by Dr. Christine Lee, MD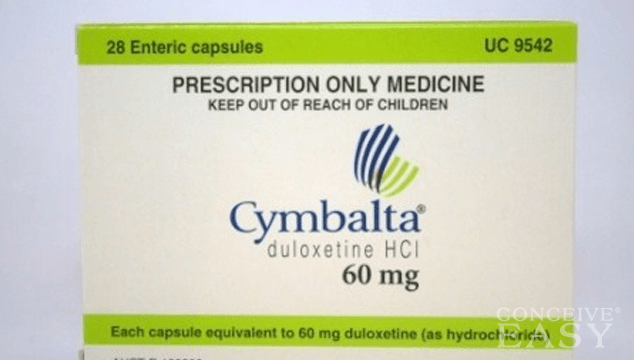 Cymbalta is basically an antidepressant prescription drug. Its brand name is duloxetine. Since its work is basically on the levels of norepinephrine and serotonin, this drug is classified under the category serotonin norepinephrine reuptake inhibitors. These two chemicals are present in your brain. When you take this drug, your body will not allow these two chemicals to be reabsorbed. As a result they will do their work as usual and calm you down. Cymbalta can treat diabetic neuropathic pain, fibromyalgia, anxiety disorder, and depression. Since many pregnant women complain of depression, it is prescribed to them. However, you should talk to your doctor before going for it. Claim Your 20 Free Pregnancy Tests – Click Here

Adverse effects of Cymbalta
Cymbalta is a pregnancy category C drug. When studied in animals, it showed numerous different effects. Some of the adverse effects of taking this drug include behavioral changes such as getting startled when hearing a noise. The fetal weight is also affected. Proper studies have not been conducted about the safety of this drug during pregnancy and thus, it is really not recommended unless its benefits are too many and overshadow the risks significantly.

Risks and side effects
If you take this drug or for that matter any serotonin norepinephrine reuptake inhibitors, your baby may be at risk of numerous problems and side effects. Some of the effects on the baby include tremor, vomiting, jitteriness, constant crying, irritation, seizures, difficulty in feeding, difficulty in breathing. These side effects may be due to two reasons. One reason is of course the toxic effects associated with the drug and the other may be because of drug discontinuation. If you are taking the drug, you should discontinue as you enter the third trimester for the sake of your baby.

Stop taking it if you are planning on getting pregnant
If you are planning on getting pregnant and are taking the drug, you should discontinue the drug on seeing no or mild symptoms for six months in line. If you are prone to severe and recurrent depression only, you should continue taking the drug. Mild depression does not need the drug at all. Once you are pregnant and don't see any depression symptoms, you can discontinue without problems but make sure you talk to your doctor first. As aforementioned, you should continue taking the drug only if you suffer with severe depression, which is recurrent.
Studies have not been conducted to prove that the drug can be taken during labor and delivery. The only circumstance under which you should take the drug during your labor or delivery is when the benefits are crucial and outweigh the side effects. Remember that the side effects will affect your baby and not you. Are you willing to risk it?

Don't breastfeed
If you are taking Cymbalta it is advisable that you don't breastfeed. This is because it can enter breast milk and can be transferred to your baby. Again, there are no conclusive studies about the safety of the drug but you shouldn't take the risk. Any harm to your baby may lead to dire consequences. Thus, you should either discontinue taking the drug or you should not breastfeed your child. The choice will depend on the severity of your problem.

ConceiveEasy® TTC Kit™ is the most complete fertility system available over the counter. Clinically proven to dramatically increase your chances of conception and help you get pregnant fast from the very first use. And now for a limited time, Try a FREE starter pack today & receive 20 FREE pregnancy tests and a FREE Digital BBT Thermometer!
Is Duloxetine (Cymbalta) Safe To Use During Pregnancy?

,
Dr. Christine Lee earned her Ph.D. in Developmental Biology and Master of Science in Biomolecular Organization. Dr. Lee is Lab Director for ConceiveEasy and is board certified as a High Complexity Laboratory Director (HCLD).