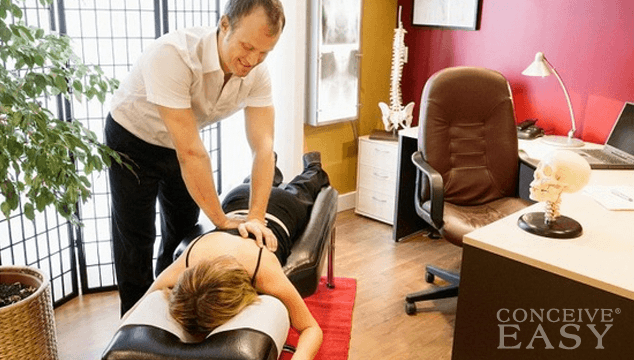 Find out how alternative treatments like chiropractic care can assist in those struggling with infertility.
Chiropractic care is a form of alternative medicine that diagnoses, treats and prevents disorders of the neuromusculoskeletal system and the effects these disorders have on one's general state of health. It makes sure the spinal column, the discs and the adjacent nerves and bones are healthy and it treats them when they are not, by applying a series of procedures that do not require medication or surgery. Claim Your 20 Free Pregnancy Tests – Click Here

How it affects fertility
As fertility, in both men and women, is affected by surrounding elements such as lifestyle, stress, nicotine, alcohol, diet, hormonal disorders, or genetic issues, chiropractors have also taken an interest in fertility care by including special techniques meant to improve fertility.

Studies related to infertility
10% of the US women struggle with infertility, as stated by a study of the Center for Disease Control and Prevention, but men are affected as well. For them, chiropractic care & fertility treatments can work together. They address, one way or the other, the nervous system, which communicates with the entire body, or at least that is what the theory that luxations and misalignments that occur in the spine negatively affect a person's reproductive system and ability to conceive suggests.

9 basic facts

The primary goal of a chiropractor is to reduce unwanted interference in the nervous system which can be caused by stress, or unhealthy habits.


Chiropractors also make sure that the spine is properly aligned and the counsel patients in terms of nutrition.


Visits and treatments are usually schedule once a week in the beginning, then gradually postponed to once a month, which explains why the results take time to appear.


Before choosing a chiropractor, the person suffering from infertility should make sure that person is authorized / qualified for the respective type of treatment (Diplomate, Certified or member of the ICPA or Webster certified).


Chiropractic care & fertility go hand in hand for a cost, hard to neglect, sometimes higher than that of the commonly used fertility treatments, but far cheaper than the in vitro fertilization procedures.


Many insurance plans include chiropractic care, in which case it becomes cheaper than fertility treatments.


Chiropractic care can be combined with other treatments, such as medication or natural products.


The results are not 100% guaranteed, but, considering that the success rate is considerable and there are no side effects involved, the solution is certainly worth trying.


It is always good to choose your chiropractor based on your physician's recommendation, on that of a midwife or health care provider you know.

ConceiveEasy® TTC Kit™ is the most complete fertility system available over the counter. Clinically proven to dramatically increase your chances of conception and help you get pregnant fast from the very first use. And now for a limited time, Try a FREE starter pack today & receive 20 FREE pregnancy tests and a FREE Digital BBT Thermometer!
Chiropractic Care and Fertility

,
Dr. Prabha Sahgal MD, is board certified in obstetrics and gynecology and subspecialty board certified in reproductive endocrinology and infertility. Dr. Sahgal holds a B.S. degree from MIT in molecular biology and currently serves on the ConceiveEasy board of directors.