The information provided by our expert should not constitute a diagnosis of your condition. Always consult a medical practitioner or healthcare provider for a formal diagnosis. By making use of this content, you agree that ConceiveEasy and the expert assume no liability.
That time when you are going to be delivering your bundle of joy is coming up, and you are already aware of the fact that your life is about to completely change forever once that baby is born. However, the big transformation is not only going to be affecting you and your partner. It will be affecting your dog as well, more than you realize. But there are ways to prepare your dog for new baby. Claim Your 20 Free Pregnancy Tests – Click Here
That is why you are going to need to take the necessary steps to prepare your pooch for the new arrival that is on his or her way. And, if you are unsure of what kind of steps you need to take in order to do that, then you are in luck because this article will help give you the guidance you need! The first step is the most important one when it comes to preparing your dog for the new baby on the way.

Obedience Classes
You may think that your dog needs a lot of obedience training, and that said, you are probably panicking about the fact that your baby is coming in just a few weeks. And, you may be concerned that your dog will not be in obedience school long enough for it to make an impact. Additionally, you may be concerned that your dog is too old to be learning new rules. That is because the saying that you cannot teach an old dog new tricks will be troubling for you more than ever right now.
However, here is the good news. Your dog is never too old to learn some new basic commands, and your dog does not need to attend that many classes in order to learn basic rules. An obedience training instructor will also give you tips on how you can reinforce rules that your dog will be learning at an obedience class so that the training is more productive.
Your dog will need to learn to not jump on people because you will not want the dog jumping on an area where your baby happens to be lying. And, the basic commands such as sit and stay can be taught to your dog at any age. You can even call an instructor to come to your home to provide your dog training unless your partner is willing to take your dog to a class. Some instructors are willing to do that, even though it may be more costly. It will be worth the money.

Maintain A Routine For Your Dog
It is crucial for your dog to stick to some kind of routine so that he or she will not be too upset over the change. If a routine is kept, and a schedule is set for when your dog gets walks, eats his or her meals, and for playtime – then your dog will have an easier time adjusting. Keeping your dog on a routine is important because your dog will feel the most secure, and that is definitely one thing to do to help your dog adjust to the new life that is about to enter into all of your lives!

Get A Doll To Carry Around
This may sound silly, but your dog will need to become used to you holding your baby in his or her presence. It is a good idea to carry a doll around and go and pretend to give it some love so your dog is not overly shocked when the real baby arrives! And, this will also reduce the chances of your dog becoming jealous.

Stock Up On Many Treats
One way to minimize the chances of your dog becoming jealous of the new baby is by making sure that your dog is given treats while you are taking care of the baby. If your dog gets treats while your focus is on the baby and not the dog, then that will most definitely help your dog accept the new arrival easier.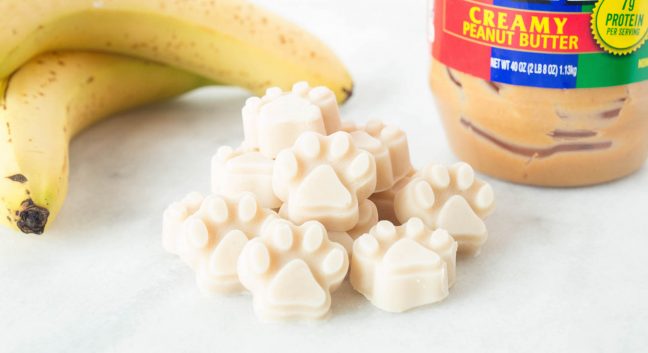 Allow Your Dog To Sniff The Baby's Belongings
Chances are you have plenty of receiving blankets that you are planning to use for the baby. Put some baby powder on the blankets and let your dog sniff them so he or she becomes used to the new smells that will be in the home. Be sure to do this everyday so that once your baby is in the home, he or she will not be too confused by the new smells. And, it is important to also allow your dog to sniff the blankets after your baby is here. This way, your dog will become used to the actual smells that the baby gives off.

Prepare The Dog Food Servings Ahead Of Time
You are going to be too exhausted, not to mention overly busy, and sore to worry about preparing your dog's food after the baby is born. If you are just weeks away from the delivery, then you need to start preparing your dog's individual meals by packing each serving up in a Ziploc bag. And this way, when it is your dog's meal time, all you need to do is pour the food into the bowl without having to worry when it comes to measuring each serving at the time.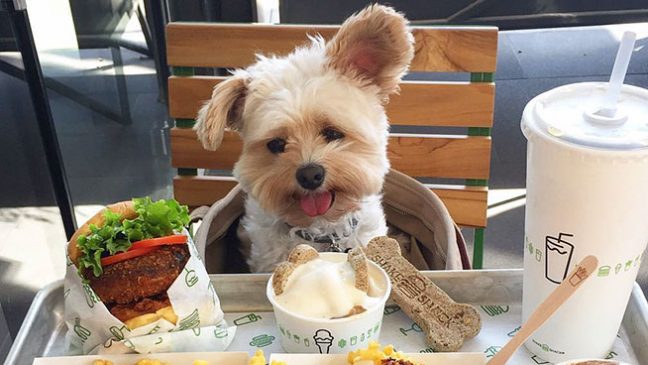 Collect Important Phone Numbers And Keep It Handy At All Times
There is a strong chance that you will not want to even worry about your dog right after the baby is born. This is why you will need to have important phone numbers easily accessible to you such as the vet's phone number. Additionally, you will need to look into hiring a dog walker at first because you and your partner will not have the time or energy to walk to the dog. And, be sure to have the phone number of the dog walker handy at all times. Or, if you are fortunate enough to have friends and family who will be happy to help you out with dog walking duties or caring for your dog after the baby is born, be sure to accept their help!
There are a new set of rules as well to follow once the baby becomes older and mobile that you will need to implement in regards to the dog. However, let's take things at one step at a time. Right now focus on preparing your dog for the birth of the baby, and then once your dog is used to the baby and your baby is older – then you will be ready to learn about the new set of rules and recommendations.