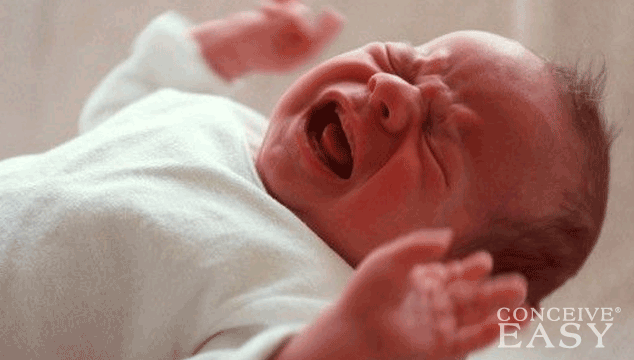 Crying baby? Colic? It can be hard for a mother to hear the sounds of her baby's cry, especially when it's hard to calm them down. Find out some tricks to calm your crying baby.
Oh, the crying baby. Is there any sound on Earth as horrible to a mother's ears than the sound of her baby crying? Not only is it terribly annoying (sorry, it just is!), it is also very heartbreaking to hear your baby cry, and frustrating beyond belief to know that your baby wants or needs something from you, but you don't know what. Read on for some great tips on how to soothe a crying baby! Claim Your 20 Free Pregnancy Tests – Click Here

Burrito Time
Wrap that baby up in a swaddling blanket! There are some great You Tube videos out there that teach the fine art of swaddling, and it can really help your baby to feel safe and secure. It takes a little getting used to, wrapping your precious baby up like a tight little burrito, but some babies LOVE being swaddled!

Tummy Time
Hold your baby over your arm, tummy side down instead of back side down. Especially good for babies with tummy troubles, this can soothe some babies. Even if your baby doesn't have a tummy ache, sometimes seeing the world from a whole new perspective can make things better for him or her!

Jiggle That Baby
You can slightly jiggle your baby (jiggle, NEVER shake!), back and forth in a sort of swaying motion. This swaying motion is a lot like what it felt like inside the womb, so it can be comforting to a baby.

Make Some Noise
While we often try to be quiet around babies, we have to remember that the womb is a noisy place. Try "shushing" your baby, using a white noise machine, or even playing some music in the background. Some babies just feel weird when it's too quiet, much like we do!

Talk To Your Baby
Come on, that little guy has been listening to the sound of your voice for nine months now, he knows you are his mommy, and your voice is comforting to him! If you can't get your baby to stop crying, gently and quietly talk to him or her. Even if it doesn't stop the crying, just hearing your voice will make things better.

Get Out Of The House
An age old trick, but it works! Pop that baby into the car seat and take a drive around the block. That steady movement, combined with the noise, feels a lot like it did back in your belly, so it can be really comforting.

Give Baby A Bath
Many babies calm down during bath time, so giving your baby a bath can be a good way to end a crying fit. If you have a baby that hates bath time however, this one might not serve much of a purpose (other than speeding up the crying to bring on an exhaustion nap!).

Pass Them Off
Seriously! Sometimes, believe it or not, your baby might just be tired of you! Pass your baby off to your partner, or take him or her for a visit to grandma for awhile. Don't feel bad, we promise, there will be days when you will be tired of that little bundle of joy too!

ConceiveEasy® TTC Kit™ is the most complete fertility system available over the counter. Clinically proven to dramatically increase your chances of conception and help you get pregnant fast from the very first use. And now for a limited time, Try a FREE starter pack today & receive 20 FREE pregnancy tests and a FREE Digital BBT Thermometer!
How to Calm a Crying Baby?

,
Related posts:
Dr. Renee Hanton is ConceiveEasy's Senior Physician with expertise in the diagnosis and treatment of infertility. Dr. Hanton specializes in the endocrine causes of infertility, such as polycystic ovary syndrome (PCOS)