Use of Multivitamins and Risk of Infertility

on Aug 04, 2013

by Maureen Stephens, BS, RN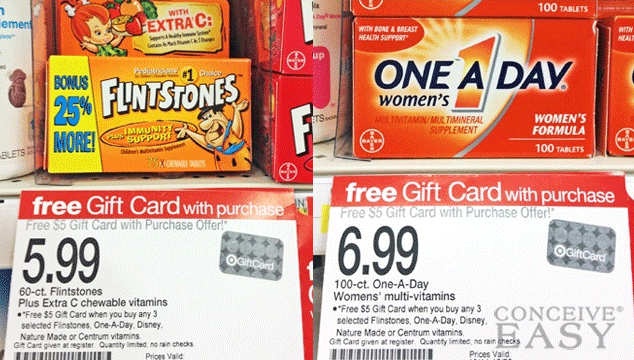 The study showed that women who took multivitamins had a reduced risk of ovulatory infertility and better chances of conception sooner, so take your multivitamin every day!
We all know how important health and making sure that you are doing the best things for your body is when it comes to fertility. Now, a new study is showing us that health and taking care of your body is even more important than we originally thought when it comes to fertility. Claim Your 20 Free Pregnancy Tests – Click Here

The Study
A new study, done by Harvard University, was conducted over eight years and followed more than 18,555 married women. The study followed women who used multivitamins to see which ones of them had infertility troubles. The results were very surprising. The study showed that women who took multivitamins had a reduced risk of ovulatory infertility. Over the course of the eight years of the study, women who took less than two multivitamins per week had a 12 percent reduced risk of ovulatory infertilty. Women who took 3-5 multivitamins per week had a 31 percent reduced risk, and women who took six or more multivitamins each week had a 41 percent reduced risk.

What This Means
This study goes to show that we, as women, should be paying more attention to what we are putting in our bodies. All of us should be taking a multivitamin, and not just sometimes! I think that this research goes to show that multivitamins are way more important than we once thought. Multivitamins are super affordable and can be bought almost anywhere, so there is no excuse not to add one to your daily routine. Doctors aren't sure why the ovulatory infertility risk dropped so much when a multivitamin was added to the mix, but many of them think that folic acid played a huge role. So, don't forget to make sure that the vitamin that you choose has plenty of folic acid in it as well.

What You Should Know
The most important thing to remember is that even if you don't think that you have a fertility issue, you should still be taking a multivitamin every single day. It can really be a great foundation for your health, and can help you to avoid all sorts of different medical problems, not just fertility related ones. If you don't know where to start, or which vitamin to choose, ask your doctor. He or she should be able to recommend which vitamin will be best for you, or at the very least give you a recommendation of what to look for in a vitamin. Truthfully, though, as long as you are taking the initiative and making sure that you have some sort of vitamin in your daily routine, you are doing well.

ConceiveEasy® TTC Kit™ is the most complete fertility system available over the counter. Clinically proven to dramatically increase your chances of conception and help you get pregnant fast from the very first use. And now for a limited time, Try a FREE starter pack today & receive 20 FREE pregnancy tests and a FREE Digital BBT Thermometer!
Use of Multivitamins and Risk of Infertility

,
Related posts:
Ms. Stephens has spent over twenty years in the healthcare world, specializing in obstretical and medical/surgical nursing. She joined ConceiveEasy as she has a strong interest in educating and empowering women and promoting fertility awareness.