Prince Michael Jackson New Entertainment Tonight Correspondent

on Mar 17, 2013

by Brittany Null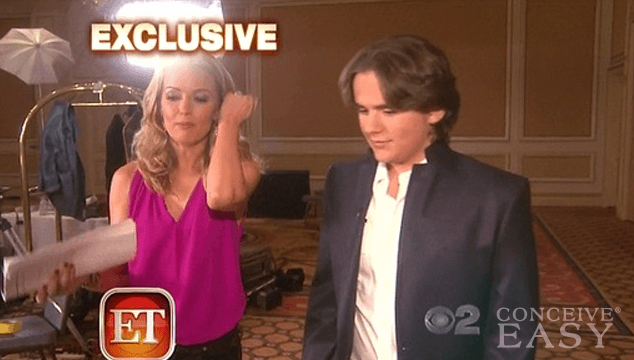 Prince Michael Jackson, son of the late Michael Jackson, just landed his first job at 16 years old as an Entertainment Tonight TV correspondent.

Not your usual first job
Well, it looks like the Prince of Pop is getting his feet wet in show business. Prince Michael Jackson, son of the late Michael Jackson, just landed his first job. And it's a lot different from babysitting or flipping burgers! Prince Michael is now a correspondent for Entertainment Tonight! Prince Michael, who is sixteen now (Wow, when did that happen! We feel old!), has just started working for ET as an on air correspondent! He recently completed his first gig, interviewing cast and crew for the upcoming Disney blockbuster "Oz Great and Powerful". He interviewed stars like Zach Braff, James Franco, and director Sam Raimi, while also asking them for advice on his growing career. Claim Your 20 Free Pregnancy Tests – Click Here

A real interest
While it was probably expected by many that Michael Jackson's kids would follow in their famous dad's footsteps, Prince Michael says that he has a real, genuine passion to work in show business. "I'm looking to become well-rounded as a producer, director, screenwriter and actor," Jackson says in the first footage from his new gig. "I've been raised around stuff like this so it was different being the interviewer instead of the one being interviewed," Jackson revealed of his new job. He seems to really enjoy his new job, and is very comfortable around the cameras, which already gives him an advantage over most newbies. Prince Michael says of his maturity in front of the cameras, that he is used to being told he is more mature than most 16 year olds. "That was all thanks to my dad. He raised me right," Prince said. This young man has certainly had to endure much more than most kids his age, so it would only seem natural that he is more mature.

In the spotlight
It does seem a little strange sometimes to see Prince Michael on TV, interviewing and being so comfortable with the press, the same people who his dad tried so hard to protect him from. (Remember the masked days, everyone? Blanket?) Since their father's death in 2009, both Prince Michael and younger sister Paris have expressed interest in keeping the family business alive and going into show business. While we know that Michael loved to keep the kids out of the public eye and give them their privacy, there is not a doubt in our minds that he would be incredibly proud of what great kids they have grown up to be! We look forward to seeing both Prince Michael and little sister Paris in the spotlight in the future!

ConceiveEasy® TTC Kit™ is the most complete fertility system available over the counter. Clinically proven to dramatically increase your chances of conception and help you get pregnant fast from the very first use. And now for a limited time, Try a FREE starter pack today & receive 20 FREE pregnancy tests and a FREE Digital BBT Thermometer!
Prince Michael Jackson New Entertainment Tonight Correspondent

,
No related posts.
Brittany lives in Kansas City, where she and her husband Austin are the proud parents of a newborn baby girl. You can subscribe to their lively and entertaining YouTube Channel to follow along on their journey.