Jessica Simpson Reveals She's Expecting a Baby Boy!

on Apr 06, 2013

by Brittany Null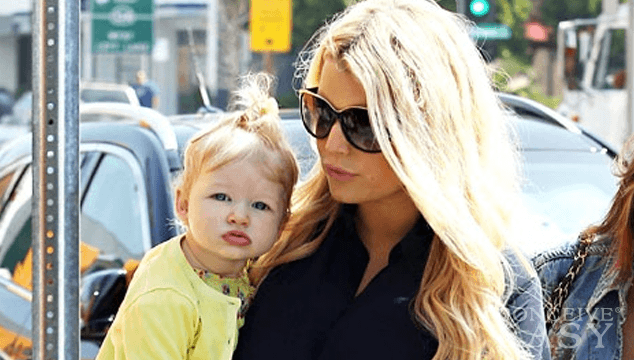 We are not sure if Jessica meant to reveal her baby boy or not, but we are happy for her either way!

One Of Each
And now, she will have one of each. Jessica Simpson, "Fashion Star" mentor, singer and reality star accidentally confirmed that she is having a boy this time around when she recently appeared on "Jimmy Kimmel Live". Jessica and fiance Eric Johnson already have a daughter, Maxwell who is around ten months old. Now they will have a little boy to add to their brood. Claim Your 20 Free Pregnancy Tests – Click Here

An Accident
Jessica, who is not known for her "political correctness," didn't mean to reveal her new baby's sex when she appeared on the late night tv show. While making a crude joke, Jessica let it slip that her new baby was gonna be a boy! We have to say, she made the announcement in true "Jessica" style!
"Oh my gosh, it's a total different pregnancy, I just feel awful," Simpson said when asked how she's been feeling this time around during her pregnancy. "I've been vomiting and the crazy thing is I never knew that a wiener could actually make me nauseous."
A short pause followed, and Jessica burst out laughing, saying: "Oh, shoot, well I guess I just told the world that I'm having a boy!"

Baby Ace?
Rumors have been floating around that Maxwell's baby brother will be named Ace, but Jessica says they are not totally sure yet. When Jessica was pregnant with Maxwell, the rumors of her name were leaked before she was born, and they were accurate. There were also rumors circulating that Jessica was having a boy this time around, before it was announced. So, it looks like Jessica's rumors have a tendency to be true! Who knows? Maybe we will be seeing a little baby Ace soon!

Accidentally On Purpose?
Some critics are saying that Jessica purposefully revealed her baby's gender on the Jimmy Kimmel show, and that she kept needing to "reinforce" what she just said so that everyone heard and understood what she had said. She did say that she "couldn't believe" that she "just told the world" she was having a boy, and she did say that several times. However, if she wanted to announce it, why would she do it in such a crude way, and why wouldn't she just come and say it flat out? We are not sure if Jessica meant to reveal her baby boy or not, but we are happy for her either way!

ConceiveEasy® TTC Kit™ is the most complete fertility system available over the counter. Clinically proven to dramatically increase your chances of conception and help you get pregnant fast from the very first use. And now for a limited time, Try a FREE starter pack today & receive 20 FREE pregnancy tests and a FREE Digital BBT Thermometer!
Jessica Simpson Reveals She's Expecting a Baby Boy!

,
Related posts:
Brittany lives in Kansas City, where she and her husband Austin are the proud parents of a newborn baby girl. You can subscribe to their lively and entertaining YouTube Channel to follow along on their journey.