Jada Pinkett Smith on Open Marriage

on Apr 26, 2013

by Alyssia Granger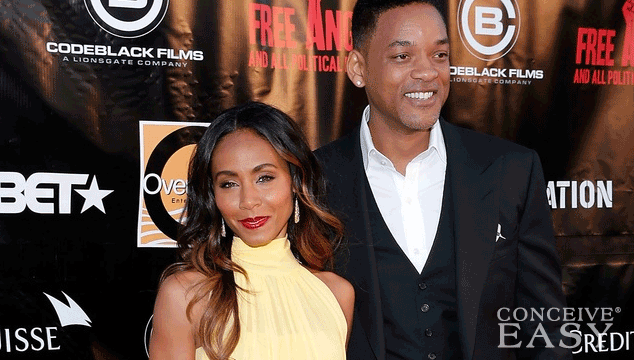 Everyone thinks that Will Smith and Jada Pinkett Smith have an open marriage. It's been a rumor for years.

Confirmation of Rumors?
Okay, okay. Let's get it out there in the open. Everyone thinks that Will Smith and Jada Pinkett Smith have an open marriage. It's been a rumor for years. However, it has never been confirmed by either of the two. That's why it was so surprising earlier this month when Jada made some comments that were interpreted to confirm the open marriage rumors. Claim Your 20 Free Pregnancy Tests – Click Here

What Jada said
During an interview with HuffPostLive, Jada said:
"I've always told Will, 'You can do whatever you want as long as you can look at yourself in the mirror and be okay,'" she told HuffPost Live's Marc Lamont Hill. "Because at the end of the day, Will is his own man. I'm here as his partner, but he is his own man. He has to decide who he wants to be and that's not for me to do for him. Or vice versa."
Whoa, was that a confirmation? The couple have two kids together, Willow and Jaden, and they have been married since way back in 1997, which makes them one of Hollywood's longest lasting couples. But, is that because of an unconventional arrangement?

Jada Clarifies
After the tabloids started to report that Jada had "confirmed" her open marriage, she took to Facebook to set the record straight, hopefully once and for all. In a post on her Facebook page, here is what Jada had to say:
"Open marriage?
Let me first say this, there are far more important things to talk about in regards to what is happening in the world than whether I have an open marriage or not. I am addressing this issue because a very important subject has been born from discussions about my statement that may be worthy of addressing.
The statement I made in regard to, "Will can do whatever he wants," has illuminated the need to discuss the relationship between trust and love and how they co-exist.
Do we believe loving someone means owning them? Do we believe that ownership is the reason someone should "behave"? Do we believe that all the expectations, conditions, and underlying threats of "you better act right or else" keep one honest and true? Do we believe that we can have meaningful relationships with people who have not defined nor live by the integrity of his or her higher self? What of unconditional love? Or does love look like, feel like, and operate as enslavement? Do we believe that the more control we put on someone the safer we are? What of TRUST and LOVE?
Should we be married to individuals who can not be responsible for themselves and their families within their freedom? Should we be in relationships with individuals who we can not entrust to their own values, integrity, and LOVE…for us???
Here is how I will change my statement…Will and I BOTH can do WHATEVER we want, because we TRUST each other to do so. This does NOT mean we have an open relationship…this means we have a GROWN one.
Siempre, J"



What Do You Think?
So, what do you guys think? Does Jada make sense with her response? Or do you think the open relationship rumors will continue? We know that this is a rumor that has followed this couple around for years, so who knows if it will be able to go away so easily? However, what you can't deny is that this couple has been married for sixteen years, which is unheard of in Hollywood, so whatever they are or are not doing, it is obviously working for them!

ConceiveEasy® TTC Kit™ is the most complete fertility system available over the counter. Clinically proven to dramatically increase your chances of conception and help you get pregnant fast from the very first use. And now for a limited time, Try a FREE starter pack today & receive 20 FREE pregnancy tests and a FREE Digital BBT Thermometer!
Jada Pinkett Smith on Open Marriage

,
Related posts:
Alyssia is mom to 2 giggley twin girls, Sophia and Emma, and son Hunter. She's a Southern girl, passionate about photography, travel and her husband Josh.