How to Ease a Baby's Pain During Shots

on Apr 03, 2013

by Monica Scott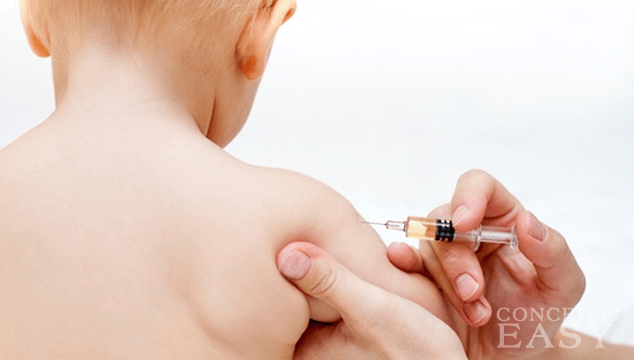 Baby shots are strongly encouraged by medical professionals and therefore inevitable, unless you exercise your right to refuse for personal or religious beliefs. Otherwise, help your baby get through the process smoothly.
Right from birth to the age of six months, your baby will receive a few shots. With age, he will receive more shots as per requirements. The shots are not very painful but they can cause confusion in the baby and scare them. Also, the pain may make them very sensitive in the years to come. You, as the parent, should be there for your baby during the shots and do your best to ease the pain so that the process is not stressful and scary for your baby. Remember that shots are inevitable and are strongly encouraged by the medical professionals. You should be very careful with your baby during shots so that the process goes smoothly. Here are a few tips to help you out: Claim Your 20 Free Pregnancy Tests – Click Here

Ibuprofen or Acetaminophen
You could use infant ibuprofen or acetaminophen to your advantage. These medications can be given half an hour before the shot and these will help alleviate the pain. Certain immunizations come with side effects. These medications are known to ease them out too. Hence giving your baby a dose of either of the medications is ideal.

Hold your baby very close
During the shots, you should hold your baby very close. You should ensure that your skin is in contact with your baby throughout the process. Let her hold onto you and stay as close as she wants. Remember that it is very scary for her. Not only is a stranger in close proximity, he is inserting a lethal looking instrument into his body. That is like a baby's nightmare! Ease him and comfort him by holding him close and he will feel safe and protected.

Distract your baby
Distracting your baby is a good idea. You can rock him, sing to him, move him gently, or sway him according to what works best for him. Distracting him will soothe the anxiety and your baby won't feel the pain much.

Breastfeeding
Breastfeeding your baby is also a good option. Breastfeeding comes with dual benefits. It will distract your baby and will give him physical comfort at the same time. Both these are very important during the shots and even after the shots. Hence you should breastfeed so that he is distracted and fall asleep soon afterwards. If breastfeeding is not an option, give him a toy to distract himself. Something that he can suck on is ideal. Your finger is a good option and so is a pacifier.

Sugar Solution
A sugar solution is also a good idea. Take 30 ml of sterilized water and add 7 grams of regular sugar to it. Before her shots, give this solution to your baby using a dropper. This sugar solution will alleviate the baby's pain not just during the shots but also afterwards.

Apply a damp washcloth
After the shot, apply a damp washcloth on the injection sight. You can also use a cold compress. Make sure you wait for the bleeding to stop though. Don't apply the cold compress while it is bleeding.

ConceiveEasy® TTC Kit™ is the most complete fertility system available over the counter. Clinically proven to dramatically increase your chances of conception and help you get pregnant fast from the very first use. And now for a limited time, Try a FREE starter pack today & receive 20 FREE pregnancy tests and a FREE Digital BBT Thermometer!
How to Ease a Baby's Pain During Shots

,
Related posts:
Ms. Scott joined ConceiveEasy after working in prenatal obstetrical care for two years in a private practice before being promoted to Director of Nursing. She has a strong interest in women's health with an emphasis on promoting fertility awareness.